Contact Information
Phone
505-552-6959
Fax
505-552-9455
Mailing Address
PO Box 428, Acoma, NM 87034
Physical Address
15 Turtle Shell Road, Acoma, NM 87034
Office Hours
Head Start
Monday – Friday
9:00 AM – 2:30 PM
Child Care
Monday – Friday
7:30 AM – 5:00 PM
HLC Administrative Staff
Cassandra Sanchez, Interim Director
Kelly E. Joe, Administrative Assistant
LouAnn Tenequer, Child Care Manager
Vacant, Disabilities Manager
Catrina Louis, Health Manager
Vacant, Facilities Transportation Manager
Vacant, Family Services Manager
Cassandra Sanchez, Education Manager
Haak'u Learning Center (HLC)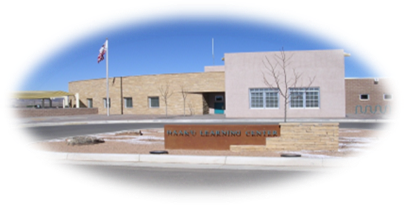 Mission
Promote educational excellence by providing quality programs and services that enhance lifelong skills while maintaining the Acoma culture and language.
Keres Language
Haak'u Learning Center is implementing the Keres language in a variety of learning strategies for infant, toddlers and head start children. The curriculum is based on Acoma culture with input from former Head Start teachers. The curriculum is taught by staff members who are fluent in speaking the Acoma language.
The Early Childhood Development programs are under the umbrella of the Pueblo of Acoma Department of Education.  Coordination with these programs ensures that comprehensive early childhood services are available to children between the ages of 6-weeks through 5-years old.
The division is comprised of the following two programs:
Head Start
Education
Individualized learning experiences that promote school readiness and foster every child's social, emotional, intellectual, and physical growth.
Family Engagement
Specialized family partnerships, goal setting, referrals, and ongoing support. Providing opportunities to volunteer, to learn and practice new skills, and to socialize.
Health
Wellness promotion of medical and dental examinations, immunizations, comprehensive health screenings, and necessary follow-up services for each child. Promotion of mental health and wellness.
Nutrition
Healthy snacks and lunches that meet USDA standards and nutrition education for children and parents. A nutritionist is available to the staff, and workshops presented to parents and staff members to identify and provide for the nutritional needs of the children.
Support for Children with Disabilities
Early identification and intervention to support children with disabilities and their inclusion in all program activities.
Transportation
Transportation services are available to all Head Start children.
Who is Eligible for Head Start?
Preschool children, including those with disabilities are eligible for enrollment. Head Start accepts applications year-round and fills vacancies from its waiting list. While children from low-income families have enrollment priority, children from higher income families may be enrolled as well.
Child Care
The program offers families access to affordable, high-quality child care where infants and toddlers have the opportunity to develop to their fullest potential in a safe, healthy and nurturing environment.
The program is dedicated to protecting children, strengthening families and providing affordable child care while offering parental choice. Child care is available for parents who are working, taking classes (high school and adult education), work related training and job search.
The program is funded by the Child Care Development Fund (CCDF). The CCDF is a Federal program devoted to helping low-income families who work or participate in educational programs that lead to employment opportunities.
Eligibility is based on income, household size and specific needs.
Head Start-Enrollment Application
Child Care Program-Application for Services
Child Care Program-Employment Verification 1
Child Care Program-Employment Verification 2
Child Care Program-Proof of Address
Child Care Program-Child Support Statement