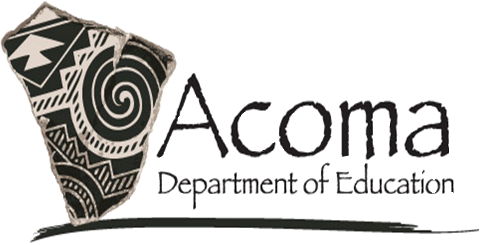 Contact Information
Phone
505-552-5170
Mailing Address
PO Box 307, Acoma, NM 87034
Physical Address
49 Pinsbaari Drive, Acoma, NM 87034
Office Hours
Monday – Saturday
8:00 AM – 4:30 PM
Administrative Staff
Melissa Riley, Executive Director
Melanie Patricio, Program Coordinator
Gilbert Sanchez, Education Program Administrator
Jalyssa Charlie, Receptionist Trainee
Board of Education
Stephanie Oyenque, Interim President
Loretta Vallo, Member
Jonathan Antonio, Member
Aleta Suazo, Member
Ex-Officios
Pierson Siow, 1st Lt. Governor
Craig T. Garcia, Councilman
The Pueblo of Acoma Department of Education was established in 2007 by the Acoma Tribal Council to develop quality educational services for the people of Acoma Pueblo.
MISSION
To promote educational excellence by providing quality programs and services that enhance lifelong skills while maintaining the Acoma culture and language.
GOALS
To administer and enhance current educational programs
Develop and implement new educational programs and services that meet the identified needs of the Acoma Community
Ensure that all educational services reflect the values and priorities of the Acoma people
Department of Education Partnerships
Laguna-Acoma Connections (LAC)
Laguna-Acoma Connections (LAC) provides employment and training services to American Indian adults with disabilities who want to be employed.
New Mexico State University-Grants
New Mexico State University-Grants.  Native American Serving Non-Tribal Institutions Grant (NASNTI) provide access to higher educational services for students in the NMSU-Grants Service area by honoring their background, their communities, and their future endeavors in higher education.